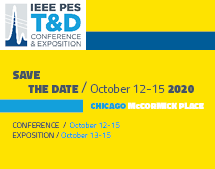 IEEE PES T&D 2020
Date : 2020/10/12
Place : Chicago, USA
Booth number : #876
A TRANSFORMATIVE CONFERENCE EXPERIENCE
From renewable energies and storage to resiliency and cyber security, this is one show you simply cannot afford to miss.
The EMTP Alliance team will exhibit at the 2020 IEEE PES T&D Conference and Exposition. Our power systems experts and sales manager will welcome you on booth #876 to present the new features of the EMTP V4.1 and demonstrate the benefits of using EMTP for your power systems applications. It will also be the opportunity for you to learn more about the New Renewable Energy Toolbox and the New Library Power Electronics.
KEY DATES
December 2, 2019: IEEE PES Member Registration and Housing Opens
December 16, 2019: General Registration and Housing Opens
Conference: April 20-23|Exposition: April 21-23
LOCATION: McCormick Place South
CONFERENCE FEES
3-DAY EXHIBITS PLUS: $220
For less than $75 a day, a 3-day Exhibits Plus registration provides access to 800+ exhibiting companies, Super Sessions, exhibit hall luncheon and networking events.
FULL CONFERENCE: $500 (PES ADVANCE MEMBERSHIP)
Maximize your show value with a "Full Conference" registration which includes:
3-day exhibit hall entry and events
3 Super Sessions selected by attendees as topics that are on everyone's mind
100+ in-depth Technical Sessions from referred paper submissions covering timely and current topics
Opening Session with special keynote speaker
Opportunities for Professional Development Hours and Continuing Education Units
Opening Reception and exhibit hall events
Technical Tours and Tutorials (for a nominal additional fee)